After an impulsive rally by more than $2,000 in a day, breaching over $11,000 price area Bitcoin had a drastic fall flushing all the gains on the same day. Bitcoin has been very volatile recently amid impulsive bearish momentum which engulfed all the bullish non-volatile trendy moves at once. It was a bit of a shock for the investors, but there are rumors that due to heavy impulsive bullish pressure the market could not sustain the rapid gain which resulted in an impulsive bearish move. Most importantly, $10,000 price area was the target area for most of investors and traders for 2017 where most of them took their money out. So a lower volume with impulsive gains always leads to a drastic fall like divergence. Currently, bitcoin is trading above the dynamic levels of 20 EMA, Tenkan and Kijun line which has been holding the price as support for a certain period, and we can observe certain volatility in the cryptocurrency in the dynamic level support zone. As the price remains above the dynamic levels and $9,000 price area, the bullish bias is expected to continue further.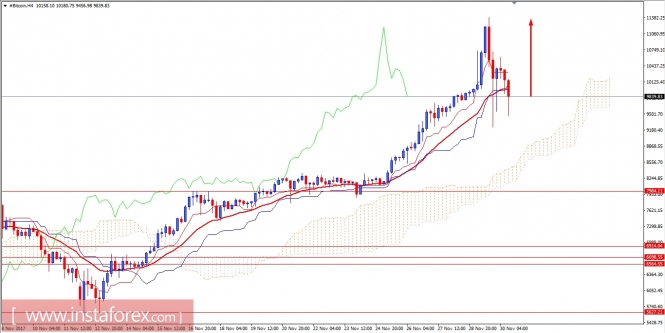 The material has been provided by InstaForex Company – www.instaforex.com
The post BITCOIN Analysis for November 30, 2017 appeared first on fastforexprofit.com, الفوركس بالنسبة لك.